Easy Homemade Pizza Dough Recipe
Who loves pizza?!
Making your own pizza at home is the best.  Don't get me wrong, we love eating out, but it's the satisfaction of making your own pizza dough and adding any toppings you fancy and saying …yep, I made that!  And doesn't it look good.
Here we'll show you how easy it is to make your own pizza dough.  We taken quite a while to perfect this recipe (probably the past six months I would say) so you can enjoy it at home too.  We've tested this recipe out numerous times and have munched our way through many tried and tested pizza bases till we perfected this one.  All you need is literally five ingredients.  For the flour, we use a strong Grade 00 which is usually used for making pasta.
Sift the flour into a mixing bowl and then mix thoroughly with the salt. Once done add the yeast and again mix thoroughly (you add the yeast last so the salt doesn't kill it).  If like us you're using an electric mixer, then use the dough hook attachment at a low speed, to stir in the oil and cold water.  The dough hook will easily mix all the ingredients in the bowl and work it into a smooth sticky dough. 
It's a good idea to work the dough for around 7-8 minutes, until everything is mixed thoroughly with no lumpy bits and looks nice and sticky. You know it's ready when the dough clears the sides of the bowl but is sticky on the bottom.
Tip:  If the dough is still sticking to the sides of the bowl, then add a bit more flour at a time until the dough comes away from the side of the bowl.
You can do everything in a mixing bowl by hand (we used to but buying a kitchen aid has made it so much easier). In the hand mixing bowl be sure that the dough is nice and sticky when you finish.  With one hand move the dough in a clockwise motion to make sure all the ingredients are incorporated.
Tip:  Have a bowl of water nearby to wet your hand when working with the dough.
You should have a sticky, stretchy looking dough ready for it to be cut. Sprinkle some flour onto your work surface and place the dough onto it.  Shape the dough into one long piece (like a sausage shape) ready for it to be cut.
Now with this recipe we make 6 portions for a super thin pizza base to fit a 14 inch pizza stone (judge accordingly for your size and thickness when cutting or increase the quantities). To cut the dough into 6 equal pieces, use a stainless steel dough scraper – you should get a nice clean cut each time.  If the dough sticks to the dough scraper, then dip the scraper into a bowl of water.
Take each dough piece and roll them into a ball and leave on the work top to rest.   What's great about this recipe is that you can save the pizza dough for another time.  Just put some olive oil on your hands roll the dough balls until covered then pop into separate freezer bags and put into the freezer.  Remember to squeeze all the air out of the bag before sealing it.  You can freeze the dough for up to 3 months.  Now the dough is ready to be shaped for your pizza base.
If you're using the pizza dough at a later date, take the frozen pizza dough ball out of the freezer the night before and place in the fridge to thaw out. Take the dough ball out of the fridge about one hour before creating your own pizza
Didn't I tell you this was easy to make!  So here it is, our homemade pizza dough recipe – super quick and easy to make.
Don't forget to check out our homemade pizza recipe coming soon. Sign up and get notified as soon as it is posted!
Check out our favourite items:
Have you made pizza dough before?
Let us know how you get on with this recipe.
Don't forget to scroll down to the bottom  to subscribe and be the first to receive new posts!
Don't forget to follow our blog at Bloglovin'
* The links used are affiliate links. By buying through the links we may receive a small commission for the sale. This has no effect on the price you pay.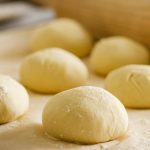 Easy Homemade Pizza Dough
A recipe to make easy homemade pizza dough. Using only 5 ingredients and quick to make. Perfect for a Friday night in! This recipe is great since you can save the extra pizza dough balls for a later date.
Ingredients
30

ounces

Grade 00 white flour

3/4

tsp

salt

14

grams

instant yeast

2

fluid ounces

olive oil (optional)

12-14

fluid ounces

cold water
Instructions
Sift the flour into a mixing bowl then add salt and mix thoroughly.

Now add the yeast and mix thoroughly.

Put the electric mixer on low speed then start adding the olive oil and cold water.





Mix the dough for around 7/8 minutes on the dough hook mixer speed.

Sprinkle your kitchen work top with the flour.


When the dough has cleared the sides of the bowl but is still sticking to the 

bottom and is sticky and stretchy, take it out and place onto a floured work top.

Roll the dough into a long sausage shape.

Cut the dough into 6 pieces with a dough scraper (depending on size and

thickness of pizza required)

Now roll each dough piece into a ball.

The dough is now ready to be used for your pizza.  The unused pizza dough balls

 can be olive oiled then placed into individual freezer bags and kept in the freezer.
Other Posts You May Like ...
For All The Latest News & Posts !
Sign up now and join us at 'WhodoIdo'
Only 'latest news & new post' notifications sent – No Spam!