Quick and Easy Homemade Chilli Con Carne Recipe
Chilli con carne has never been easier to make or so tasty to eat. Try out our recipe now!
This one pot chilli con carne recipe is super easy to make and great if you're busy like me and like to batch cook so you've always got something yummy to eat that's ready in moments.  This home made chilli is so good I have converted Lana to liking this and having it as one of her favourite meals.
Since it's been a bit chilly recently in the UK, no pun intended, I tend to lean towards simple comfort foods – meals that are easy to make but are also so god damn tasty!
With this quick and easy chilli recipe, I like to use beef and a variety of beans e.g. red kidney beans, white beans and baked beans.  If you're not keen on some of the beans then just take them out … easy peasy!  And you can easily vary the amount of chilli to add to this recipe to make it as hot or mild as you like!  Don't know about you but I like to have a bit of kick in my beef chilli.
How to make the homemade chilli from scratch
First I like to use my big commercial 32cm stainless steel cooking pot.  This pot is great for batch cooking lots of portions so you always have something in the freezer if you want a break or too rushed to cook.  It does seem huge but you'd be amazed at how many portions I can get out of this recipe.
To start you'll need a good drizzle of olive oil and heat the pot.  
Next add your onions and chopped garlic and cook until they are soft and translucent.
Then add the minced beef and cook until the beef has browned whilst stirring most of the time.
To the pot add the canned chopped tomatoes, tomato purée, red kidney beans, white beans (optional), baked beans (optional) and diced bell peppers.  Give this a good stir and make sure all the ingredients are mixed in and nothing is sticking to the bottom of the pot!
Add the fresh chillis and/or chilli powder until you reach your required heat.
Slow cook for around three hours.  Then it's ready to serve! 
You can serve the chilli con carne with jacket potato and a sprinkle of cheese (which is the way Lana enjoys) or with some white fluffy rice.
Doesn't it look yummy?!  With the rest of the left over chilli, freeze up the portions to enjoy another day.
This homemade chilli is simple and easy to make and a great recipe for all the family.  If you're looking for comfort food and dinner ideas, then you should definitely give this recipe a go.
What's your favourite comfort food?  Do let us know when you're tried this recipe.
Don't forget to scroll down to the bottom to subscribe and be the first to receive new posts!
Don't forget to follow our blog at Bloglovin'
* The links used are affiliate links. By buying through the links we may receive a small commission for the sale. This has no effect on the price you pay.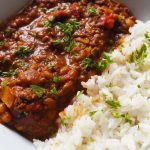 Quick and Easy Homemade Chilli Con Carne Recipe
Quick and easy homemade chilli con carne recipe perfect to prepare ahead of time and great for the family to enjoy.
Ingredients
2

tbsps

Olive oil

6

large

Red onions

4/5

cloves

Garlic

2

kilos

Minced beef

6

tins/cans

Chopped tomatoes

4

tbsps

Tomato puree

3

tins/cans

Red kidney beans

3

tins/cans

White beans

(Optional)

3

tins/cans

Baked beans

(Optional)

6

diced

Mixed coloured bell peppers

1

level tbsp

Chilli powder

(I prefer Schwartz Hot)

3/4

red/green

Chillis + seeds
Instructions
Drizzle the olive oil in the pot.

Add chopped onion and garlic.  Fry till soft and translucent.

Add the minced beef and cook till brown - keep stirring.

Add canned tomatoes, tomato puree, red kidney beans and white beans, baked beans (both optional). If you remove any of the beans then make the amounts up with the ones you prefer!

Add the diced mixed bell peppers.

Add diced chillis + seeds and/or chilli powder. If just using chilli powder then increase to 2 heaped spoons but remember to vary according to taste.

Slow cook for 3 hours stirring occasionally.

Serve with rice or jacket potato and a sprinkle of cheese.
Other Posts You May Like ...
6 Comments
Louise

09/02/2019 (22:16)

This looks like the most delicious chilli ever!

Louise x

Ian

10/02/2019 (10:02)

Awwwww… thank you Louise I hope you get to make this recipe and enjoy it! Let us know if you do 🙂

Holly Bird

06/02/2019 (23:39)

Thanks for this easy recipe!! I live chili con carne, but I've never made it this looks delicious and easy!

Ian

07/02/2019 (08:05)

It is really easy to make and you can simply reduce the amounts for smaller portions 😉 Thank you for commenting Holly.

Wow this looks yummy and delicious. Would really love to prepare this with my wife on a weekend.

Ian

06/02/2019 (09:30)

Hi Matthew. Thank you for commenting and I hope you and your wife enjoy this delicious recipe.
For All The Latest News & Posts !
Sign up now and join us at 'WhodoIdo'
Only 'latest news & new post' notifications sent – No Spam!