Nominated for The Versatile Blogger Award
Our third nomination in two months! The Versatile Blogger Award.
In June we were nominated for the Liebster Award, then a week later the Blogger Recognition Award.  And now The Versatile Blogger Award.  Wow!  We're truly grateful and honoured to be nominated for this award.  We were nominated by the wonderful Daniela of The Lost Romanian.  Daniela is an Expat living in London and writes about her travels, 35 countries and counting.
What is The Versatile Blogger Award?
It's a way of spreading love and sunshine between bloggers.  This is a virtual award given by bloggers to bloggers for encouragement and their continued support.
The Rules Are:
The nominee writes a post, thanking the nominator. Common courtesy.
Nominee shares 7 random things about herself/himself and
Nominates 7 bloggers for the award!
Random things about us
I'm allergic to watermelon all types of melon and Ian hates (really hates) grapefruit.
We love beaches but equally love mountains too.  We try and go snowboarding every year – just to keep up with our boarding skills.  Then book a beach holiday (got to have a beach holiday right girls!) mid to latter part of the year.  Earlier this year we spent a week in Andorra to brush up our skills.  The previous years we've visited Aspen and Jackson Hole.  Maybe next year Banff?  Let us know where it's good to go for boarding in the comments below.

We love ice cream – seriously doesn't everyone ? 😉  I'm addicted to mint choc chip and Ian loves vanilla.  I reckon I could eat ice cream for breakfast, lunch and dinner.  You know what they say, ice cream makes you happy!
We trained as Clinical, Sports & Remedial Massage Practitioners to help each other if we were ever injured.  Ian occasionally suffers from lower back pain due to a sporting injury and we thought if we trained as massage therapists, then we could massage any injuries away and save some money at the same time 😉  It's worked so far.
Ian 'loves' playing computer games.  I'm afraid I don't share that love!  He can play games all day long and not move from his seat.
Seeing the Northern Lights is definitely on our bucket list.  We haven't quite figured where would be the best location to see them or time of the year – hmmm needs more planning.  Maybe one day we'll get to see them!
We love our fitness – got to keep that body like a lean machine right!  So we visit the gym a few times a week (well, in my case at least 5 times) and I like to add in an insanity class and a pole class to challenge the body.  Healthy body equals healthy mind.
You can read Daniela's 7 random facts here.
Our 7 nominees for the Versatile Blogger Award
Again, a big thank you to Daniela for the nomination.  
Congratulations to the nominees you're all amazing.  Let's continue to support each other!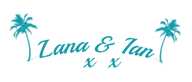 Other Posts You May Like ...
For All The Latest News & Posts !
Sign up now and join us at 'WhodoIdo'
Only 'latest news & new post' notifications sent – No Spam!