Easy Banana & Choc Chip Muffin Recipe
Take a moment and try our easy and delicious banana & choc chip muffin recipe!
This recipe is super easy to follow and will take no time as all to make.  When I have ripe bananas to use up I tend to make banana bread.  Now don't get me wrong … I love banana bread, but if you're looking for something different to make, then try this super tasty muffin recipe.
With this muffin recipe you can use your ripe bananas with just a few of the other usual baking ingredients from your store cupboard.
This recipe is super simple if you have a mixer as you can mix the dry and wet ingredients in one go and mix away.  If you don't have a mixer, don't worry as you can stir all the ingredients together thoroughly with a spatula.
I do tend to go dry then wet when adding the ingredients but you can still add them anyway you want as the mixer will make sure the end result is still perfectly blended. 
How to make banana muffins with choc chips
I usually use 3 medium ripe bananas and mash them up with a fork first.  
Add all the dry and wet ingredients into the bowl and mix thoroughly whilst not forgetting to scrape the sides!  I use a mix of white choc and milk choc chips, but you can use any choc chips you prefer.
Once completely blended spoon the mixture evenly into muffin cases and sprinkle some desiccated coconut on top of each muffin. 
Finally place the tray into the oven for around 20-25 minutes. The muffins are ready when you can insert a skewer into the centre and it pulls out cleanly.
Now take the muffins out of the tray and place on a cooling rack.
The muffins are delicious, soft, moist and super easy to make.  Of course you can always substitute some of the ingredients e.g. nuts or blueberries.  If you're looking for an easy muffin recipe, then try this one.  You won't regret it.  These yummy muffins are perfect with a cup of tea or coffee!
If you have a moment we'd love to know what you think of the muffins in our comments section below.
Don't forget to scroll down to the bottom to subscribe and be the first to receive new posts!
Don't forget to follow our blog at Bloglovin'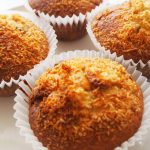 Easy Banana & Choc Chip Muffin Recipe
Try this easy and delicious banana & choc chip muffin recipe
Keyword:
homemade, muffins, recipe, simple, tasty
Ingredients
150

g

Caster sugar

100

g

Butter

( Unsalted and softened )

225

g

Self-raising flour

3

Medium ripe bananas

2

Eggs

50

g

White choc chips

50

g

Milk choc chips

1

tsp

Baking powder

1

tsp

Vanilla extract

3

tbsp

Milk

( We use semi-skimmed )

Desiccated coconut

( Sprinkle on each )
Instructions
Mash the bananas in a bowl

Add the mashed bananas and the rest of the ingredients into the mixer/bowl

Mix the ingredients thoroughly, scraping the sides with a spatula

Spoon the mixture into the muffin cases evenly

Sprinkle the top of the muffins with desiccated coconut

Place in the oven for around 20-25 minutes or until a skewer, when inserted into the centre of a muffin, pulls out cleanly

Take the muffins out of the tray and place onto a cooling rack
Other Posts You May Like ...
For All The Latest News & Posts !
Sign up now and join us at 'WhodoIdo'
Only 'latest news & new post' notifications sent – No Spam!