Super Tasty Caribbean Chicken Recipe
A tasty and easy Caribbean chicken recipe to enjoy with the family!
If you're looking for new dinner recipes to try, then look no further than this easy to make but super tasty dish.  When I asked Lana if she had ever tried Caribbean chicken, she replied no.  So I thought I just had to make this yummy meal, as I was sure she would thoroughly enjoy it.  This dish is totally flavoursome, with the extra addition of chilli to warm you up during those colder months!  Don't know about you, but I always find a warm, hearty dish is perfect during Winter although to be honest I eat this dish all year round 🙂  This is also so easy to make ahead of time and freeze as you'll have plenty left over if you follow the recipe precisely.
I was given the recipe by a close friend from Grenada many years ago and I've been making this simple dish ever since but with a few additional tweaks of my own and would love to share it with you.  The actual amounts I use are at the bottom of the post in the recipe section that you can just print off for your own personal scrap book.
I must state that I do like to use a large pot for batch cooking so I have enough room for everything and no chance of the ingredients bubbling over the sides.  I bought myself a big commercial 32cm stainless steel pot with a lid and this will take a large amount of food.
So first off the chicken needs to be marinated for a minimum of two hours, before you start cooking it.  I also like to use chicken thigh fillets and legs, since I find the meat to be so much juicer than breast meat.  The chicken should be tenderised first, I just prick it all over with a fine pronged fork, then prepare the following vegetables, herbs and spices:
Dunn's River Jamaican Jerk Seasoning (only the best)
Freshly chopped Thyme
Freshly chopped Parsley
Freshly chopped Chives
Chopped Celery
Chopped Onions
Chopped or crushed Garlic
Salt
So add the chicken to the pot with lime juice, zest and water then throw in all those herbs, spices and veg and give it a good stir.  Leave this for at least a couple of hours although I tend to leave it overnight to soak up all that flavour.  You'll be able to smell fresh herbs and the zestiness from the lime juice as soon as you raise that lid.
Next chop some potatoes, around  3/4 cms long and dice some red chillies (keep the seeds if you like an extra bit of heat).  The red chillies will definitely give some kick to the dish but add an amount you're comfortable with (it really does need some chilli !). 
The next step is to slowly heat the mixture in the pot whilst adding the chopped potatoes, chopped tomatoes, diced chilli, brown sugar, curry powder and ketchup. 
Stir the mixture and bring it to the boil.  Once it boils, immediately turn it down and let simmer in the pot for 3-4 hours stirring constantly so the spices etc. don't stick to the bottom.  Remember to keep tasting it all the way through and adjust according to taste.  If you prefer it to be spicier, simply add more chillies. If you find it too chilli hot then just add some milk or yogurt to reduce that chilli heat down.
When you're ready to eat, serve this with a portion of fluffy white rice.  The rice is perfect to soak up all that sauce.
This Caribbean chicken recipe is ideally made a day ahead of time. This recipe should give you around 20 portions if followed precisely and freezes easily for eating at anytime.  So when you come home from work, all you have to do is heat it up.  A great dish for the family too –  a definite one pot wonder.  This has become one of our favourite dishes as it's just so damn tasty!
Tips
Once served I leave the rest of the pot on the hob with the lid firmly in place overnight. I then portion and freeze the following day to allow all those flavours to really mix with everything
For smaller portions just alter the ingredient amounts as necessary
If you like your sauce a little thicker then just add some flour to a little milk whisk and add to pot and give it a gentle stir
Let us know if you've tried the recipe and what you think.
Don't forget to scroll down to the bottom to subscribe and be the first to receive new posts!
Don't forget to follow our blog at Bloglovin'
* The links used are affiliate links. By buying through the links we may receive a small commission for the sale. This has no effect on the price you pay.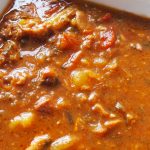 Caribbean Chicken Recipe
A simple and tasty chicken recipe best served with a portion of fluffy rice! Ideally prepare this dish ahead of time.
Ingredients
Marinade
40

portions

Chicken (thighs & legs)

8

Limes + zest

60

grams

Dunn's River Jamaican Jerk seasoning

6

large

Onions

8

sticks

Celery

8

cloves

Garlic

3

large sprigs

Thyme

2

tspns

Salt

Water - enough to cover everything
Cooking
8

large

Potatoes chopped

8

tins/cans

Tomatoes chopped

2-4

medium size

Red chillies

1

large handfull

Parsley

1

large handfull

Chives

4

tbsps

Brown sugar

8

tbsps

Ketchup

4

tbsps

Curry powder (I like to use Korma)

Salt & Black Pepper - to taste
Instructions
For the marinade:
Add the chicken to a large pot.

Add the jerk seasoning, onions, garlic, celery, thyme, parsley, chives, salt, lime juice & zest to the pot.

Finally add the water to the pot making sure everything is covered.

Stir thoroughly then leave to marinade for at least two hours.
Cooking the chicken:
Gently heat the chicken mixture in the pot.

Add chopped potatoes, chopped tomatoes, diced red chillies, curry powder, ketchup, brown sugar.

Bring the mixture to the boil and then immediately turn down and let it simmer for 3-4 hours.

Remember to stir occasionally to stop food sticking to bottom of pot.

When it's ready to eat, serve with a portion of fluffy white rice.
Other Posts You May Like ...
For All The Latest News & Posts !
Sign up now and join us at 'WhodoIdo'
Only 'latest news & new post' notifications sent – No Spam!